Silda Wall Spitzer and Tim Jones
Silda Wall Spitzer and Tim Jones' creative partnership pairs two artists realizing their shared dream of creating large-scale sculptures. In their "no rules" artistic approach, Tim and Silda utilize various found and new materials in particular stainless steel, stone, wood, and glass. The incorporation of objects and materials from their local area's past and nature by-repurposing, recycling. and rethinking is a defining characteristic of their works. While some of their pieces deliver pointed, thought provoking messages, and others reveal their own stories, often with  humor. As Tim tells it "It's great when two people can look at something being moved around for the right visual,  and they  are both  saying "No, no, no, – Yes!" at the very same time, every time.
Tim Jones (b. 1957, Pine Plains, New York). A United States artist and designer, whose works grace locations around the world. Mr. Jones has been heavily influenced by his deep roots in the New York hamlet of Attlebury, where his family owned and operated the local blacksmith shop for generations since the 1700's. Favoring work in metal as had his forefathers, Tim has been a leader in developing zinc-topped and industrial furniture in America. A  renowned portfolio of interior designers has used Tim's designs in their projects, many of which have been showcased in Country Living, Veranda, Traditional Home,  El Decor, Main Street Magazine, The Country Abroad, The New York Times, among others.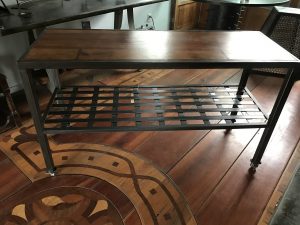 Silda Wall Spitzer (b. 1957. Chapel Hill, North Carolina), is a New York based painter. multimedia artist and sculptor. Ms. Wall Spitzer's prominent career in law, finance, public service and notably as First Lady of New York State has served to inspire her artistic voice. While a lifelong artist, her passion and devotion to her artistic endeavors have become front and center in a very rich life. The depth and breadth of her artist talent have been recognized as undeniable by those who have had the opportunity to experience her seminal work.
Suzanne C. Ouellette is a painter who works in Pine Plains, New York and New York City. Using oil paint, she tells stories about the beauty, simplicity, and complexity of what she sees in the world.
"I want my paintings to stop you in your tracks. I want you to pause and engage with a Mexican wall, a Japanese doll, a person, a silver bowl, a tree, or some other piece of the world. I want to provoke your curiosity and concern. Hopefully, you will find beauty in what you are looking at; but I also want you to care about what just happened and what might come next for the person, place, or object in the painting, in front of you."
You can learn more about her and see more of her work on her website, http://www.soullette.com. Suzanne also writes about art, travel, and life on her blog at that site, http://www.soulette.com/musings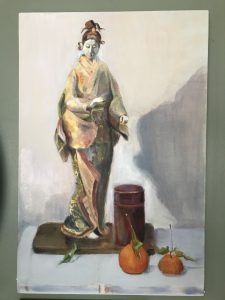 John Duff is an artist residing in Yorktown Heights, N.Y.
His paintings focus on flora, bringing natures random patterns from micro to macro. Applying bright colors and bold brushstrokes make his pieces vivid and one of a kind. He calls it "mom and pop" (where mother nature meet's pop art.) John often makes custom work by request when approached by clients with particular subjects in mind.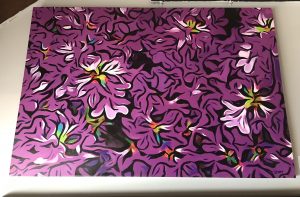 Artist Deborah Strickland, a long time local Dutchess County Resident received her Art degree from Philadelphia Art Institute, in Philadelphia Pennsylvania in 1991. Her passion for color and floral design is reflected in her stunning paintings. While not busy creating glorious gardens for clients, she can also be found balancing on a ladder and painting beautiful flower murals on barns and homes. See some of her creations in Stissing Design Gallery located in Pine Plains NY.